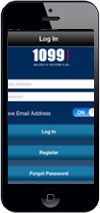 1099online.com app makes your smartphone smarter
Three taps to E-File your 1099-MISC forms
read more


IRS e-file due date is March 31, 2016.
1099online will transmit your e-filed return to the IRS same business day.
Welcome To
1099Online
1099online.com is a web based software to make convenient the life of businesses who have hired the services of independent contractors, have paid them $600 and above and therefore have to report the income to IRS by filing form 1099 MISC. 1099online.com is the first website ever to offer an advanced web based green tool to electronically file form 1099 MISC, 1099 K and other 1099 FIRE forms in a quick, efficient and secure way.
1099online.com is a first of its kind easy to use green product which allows filers to switch from the old fashioned way of paper filing to a more superior and secure way of electronic filing which is not only easy, effortless and fast but if filers use the efile method of filing 1099 forms then they are automatically contributing towards their environment by saving lots of trees.
IRS introduces form 1099 K from 2013 onwards. Form 1099 K is used to report Payment Card and Third Party Network Transactions.The form is required for reporting payment transactions. Payment transaction is when a payment card (credit card) is used to make a payment or any settlement through a third party payment network such as e-bay, pay pal and etc. Thus, people who have a pay pal account, credit card account or any such similar account will receive 1099 K at the end of the year.
You can file electronically through the Filing Information Returns Electronically System (FIRE System); however, you must have software that can produce a file in the proper format according
We know you are good at your job but 1099online.com makes it even simpler and quick for you to efile 1099 forms for your clients. At 1099online.com, you can enjoy the benefit of various deals and our expertise service without
This was quick and easy process! Great 'live support'. Appreciated.